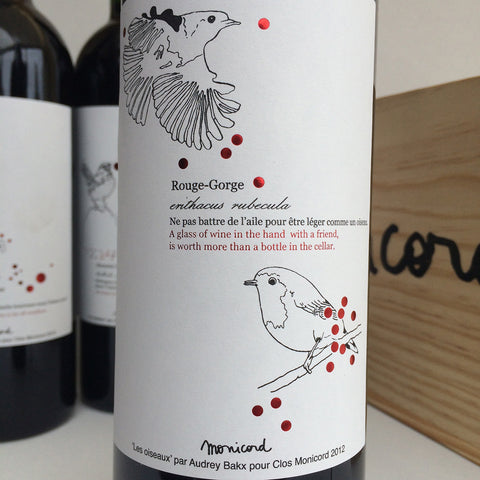 As scarce as hen's teeth, a good wine is hard to find.....
Beautiful drawings, a refined wine…
For several years Audrey works together with her father at the family wine estate. Wine girl, yes, not only....... but foremost artist. Since 12 years she creates with tenderness and poetry labels, which honor the Clos Monicord wines.
Sustainable agriculture methods, has created at Monicord a perfect balance between flora and fauna. For the 2012 vintage Audrey is honoring the birds, which she has observed over the years at the Monicord vineyards. Out of this tedious and passionate study is born the series of 6 delicate and beautiful labels. Each label has a drawing of a bird, the names in French, English and Latin (alouette lulu, lullula arborea, bergeronnette grise, motacilla alba…), followed by a quirky expression created for this occasion to give a typical playful touch : "As scarce as hen's teeth, a good wine is hard to find" or "As happy as a lark, with wine to keep you sharp"…….
With elegance and grace Audrey has framed the labels and transformed in a poetical decorative item. 6 labels, vintage 2012 framed, 73x24x3 cm
Audrey develops in the same spirit other elements of decoration, which demystify the world of wine production and make it more "sexy" and accessible. A philosophy!
 … before tasting Clos Monicord 2012
Monicord vineyards are located in Vérac on the right bank in Bordeaux, close to St. Emilion, Pomerol and Fronsac. Audrey follows the smooth works in the vineyards with passion.
The Bakx family at Monicord has as objective to encourage wine consumers to have a convivial discussion around a glass of wine. This is not only by pouring a glass of wine, but also other elements as talking about Bordeaux wine and its heritage, exchange a story, an anecdote, a souvenir about wine, an important occasion, offering wine as a sign of recognition and respect, admire the passionate work around vineyards and wine, labels and packaging.
 Offering pure pleasure wine with story telling bottles is the ultimate experience of enjoying wine.
The 2012 Clos Monicord, collectors item, Bordeaux wine is available on the web shop of Clos Monicord. www.closmonicrod.com