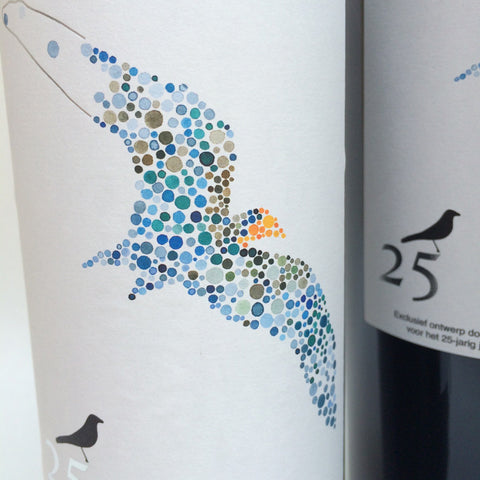 A special wine label for Crowne Plaza Brugge
Crowne Plaza Brugge celebrates its Silver Jubilee in 2016. To mark this unique milestone in the history of the Hotel a special label was designed by the visual artist Audrey Bakx to decorate the wine bottles of 'Les Monicord'.
The large flying bird symbolizes the invitation to the future that has yet to come. Bubbles of colours displayed in the shape of the bird were inspired by the colours of some of the rooms. One of the wings was purposely not filled with bubbles to give the impression of freedom and openness to what will be in the future and give the ability to the bird to fly as he wants and needs. The black bird on the bottom left corner is the sculpture representing the now, the present, what there physically stands in a guest room.