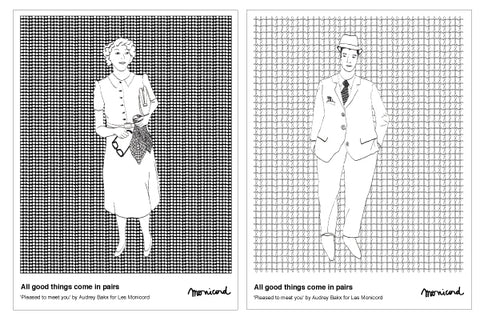 Who are Madame and Monsieur Monicord?
Les Monicord is the name of one of the wines we produce. The same wine comes with two labels and sometimes packaged in a two bottle gift box. One of the labels depicts "Madame" and the other "Monsieur". In French we would call the Smiths "Les Smith" or in this particular case "Les Monicord". When Audrey drew the characters for the wine labels she entitled this series of two labels "Pleased to meet you". Since wine is an authentic product, we liked the idea of creating a character that would tell stories and bring back a human touch. 
A little later in time, we decided to make a few magnums from "Les Monicord". We had to keep 'Madame' and 'Monsieur' and combined the two characters on the same labels! because as the Rolling Stones sing "When after all, it was you and me" 
Doesn't it make you want to listen to the song and dance ?